10 Steps To Setup Facebook Ads Campaign.Legitimate Income Tips.
The recent addition of Facebook ads has given business owners another CPC option for their advertising. The difference is this a much more affordable option than say Google ads. Now's a good time to walk you through the 10 steps to setup your Facebook ad campaign.
10 Steps To Setup Facebook Ads Campaign.
#1 Create Your Ad – After you log into your Facebook account, look at the top right of your browser and you'll see the 'Create an Ad' green button. Click it and you're ready to start.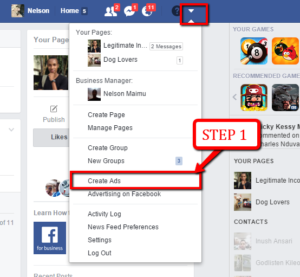 #2 Choose what to Advertise – You have many options. You can promote applications(Apps Install), URLs, domains, place, events. Etc. For example, maybe you want to drive traffic to your landing page or maybe you want to get more 'likes' for your Facebook page.You can even Boost your Post.
(Click Image For Closer Preview)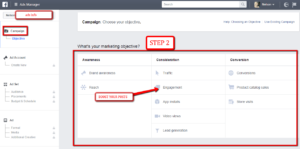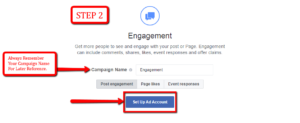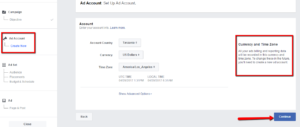 Note: I always like to use Currency in US Dollar so as I can know the cost i incur per post engagement and how much i earn from the post or if you have your own shopify store and Also Time Zone for the targeting location.
Set Up Your Targeting Audience:
#3 Target Your Geographic Area – Choose the geographic region you want your ad to run in. Pay attention the box that says 'within '10, 25, 50 miles of your region. Choose the appropriate one for your target market.
#4 Target by Age & Gender – Choose the age and gender you want to see your ad. Make sure to uncheck the box on the right, otherwise Facebook takes the liberty of showing your ad to a similar target market but not what you defined.
(Click Image For Closer Preview)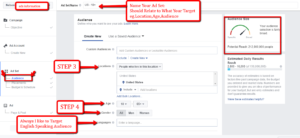 #5 Target the Precise Interests of Your Ad – Target users based on their ethical background, interests, status, hobbies, etc. Define the exact interests. If the specific interest you want to target in your ad is not shown within the broad target, you can type in the keyword that's most relevant and Facebook will show you the closest options. Or you can use broad categories. It's amazing just how much control you have.
#6 Target Your Ad Based on Connection – While you are able to target by age, geography, interests, etc. Facebook also offers ad targeting that is based on your connections. For example, you can target people that are connected to your business page/specific app. You can even target their friends.
(Click Image For Closer Preview)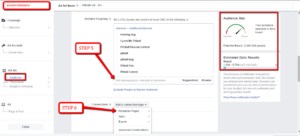 IN ADDITIONAL TO STEP 5& 6-Below is How you Need to Setup your Ads to A Certain Place in Facebook Site(Feeds,Instant Article,Right Column) or For Desktop Users or Mobile Users.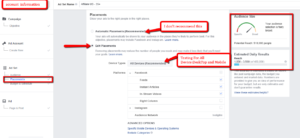 NOTE: If you did not want Mobile Users or Other Place like Right Column for your ads to appear you can Uncheck the box and also, remember when you uncheck one of them the potential reach will decrease which is nothing to worry about if you know what you are doing.
#7 Setup Your Pricing and Objective – This is a little trickier. If you aren't careful when you set this up, instead of charging you on the CPC (Cost Per Click) Facebook will charge your campaign on CPM pricing, which is the cost per 1000 times your ad displays. If you like CPM and that's what you want that's great, but too many people are surprised to discover their budget has disappeared and they have only a handful of clicks, because they didn't understand what they chose.I recommend go with Cost per Engagement.
(Click Image For Closer Preview)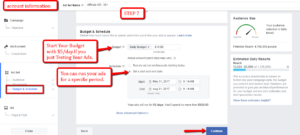 #8 Set Your Ad Up – You will need to write a short copy and then confirm the URL. Your ad preview still display (right side) so you can see what your ad will look like live. Some types of ads don't require ad copy, you can run an existing post from your page like below from one of my facebook page(Legitimate Income Online) don't forget to HIT the Like Button 3<
(Click Image For Closer Preview)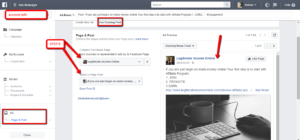 #9 Review Your Ad – Before you take your ad live, check everything over and make sure it's exactly what you want.

#10 Launch Your Ad – You did it. Your Facebook ad is ready to launch. Click the blue button 'Place Order,' and your ad will go live. Now you need to keep watching your Facebook ad so that your budget is being used well and remember you can tweak along the way.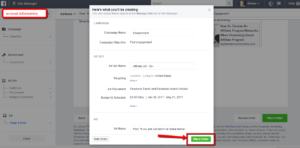 And remember you can start with the budget of $2/day or $5/day per ads and later on start maximize if the ads is profitable by duplicate the same ads.
Thanks for take your time,and hope you learn those easy 10 steps to setup facebook ads campaign,feel free to share this post with your friends.
To your success,
Nelson Maimu
The following two tabs change content below.
Nelly
I'm Kind of Big Deal at Legitimate Income Online Blog,By Provide tips on internet marketing,SEO,Affiliate Marketing and much more.Make sure to stay Tune By Subscribe On My Blog and Youtube Channel.