Is Advshare a Scam or a Ponzi Site?-Advshare Review.
OWNER: Alex Ray

BUSINESS TYPE: Online Revenue

Sharing Advertising Platform-Advshare
PAYMENT PROCESSOR: PAYZA, STP, BITCOIN and Perfect Money.
PRICING: $10 for each ad pack which expire at $13-(130% Cashback)
DOMAIN CREATED: 03 December, 2015
DOMAIN UPDATED: 10 January, 2016
OFFICIAL LAUNCH: 25 January, 2016.
RATING: 10/100
RECOMMEND: NO.
ADVSHARE REVIEW:
In this advshare review you can see by yourself if the advshare is a scam or a Ponzi site. Also in this advshare review you will see if the site will dissolve in the next few months or years to come.
So,I have decide to create this review about a new revenue sharing platform advshare, which is owned by a British Alex Ray, After see a lot of people in different platform start to promote the company and I also invited to one facebook group from one leader in order to see the way you can earn money in Advshare.At the end of the day i found out is not the right place to be.
Now I already answer your question "is advshare a scam?"-Scam True Let's go into more details on what advshare offer by take a look on website design, advshare business model, how you can make more money in the program, withdrawal condition.
WEBSITE DESIGN:
To be honest the Advshare website is easy to navigate in different sections compare with other revenue sites where its need an experience users to setup everything in the site. In the site you can setup your business banners easy and other services which provided by Advshare.
One thing, the site created is look like a cheap miniscripts which is mostly used with a lot of scammers out there; they create their facebook profile just before the program launched. Well, you should take a concern about their profile.The site owner only post few thing in facebook at the end of the day he disappear from nowhere.So, i don't like kind of owner who are not transparency with their business.
ADVSHARE BUSINESS MODEL: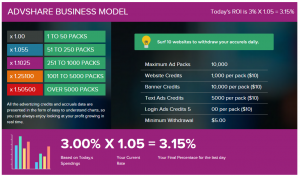 When you buy 1 ad pack for $10 you get:
Website credits 1,000 per pack.
Banner credits 10,000 per pack.
Text ads credit 5,000 per pack.
Login ads credits 500 per pack.
It's pretty cool right but that can't be if you are real an internet marketer,1 ad pack can give you that much service for free,Nah can't happen my friend.
HOW TO MAKE MONEY IN ADVSHARE ACCORDING TO THE OWNER:
There are two ways you can make money in Advshare:
BUY AD PACKS,
When you buy 1 ad pack for $10 at the end of the time your earn $13 that is 130% for 1 ad pack. The big thing is you buy more ad packs and you earning more. (More Ad packs, More Money)
Everyone will get the daily accrual which is same for all the members, but if you own more than 50adpacks you get some extra earnings the following piece of information will help you better understand it info here.
x 1.00 1 TO 50
x 1.055 51 TO 250
x 1.1025 251 TO 1000
x 1.25100 1001 TO 5000
x 1.50500 OVER 5000
By Multiply with Rate of return per that day.
For example:

This mean that if you have more than 50 Ad packs. Your current rate will be 1.05.If you have less than 51 ad adpack then you current rate will be 1.oo.
This is complicated algorithm for newbies and even experience users in the internet.So, if you didn't know what you doing Stop doing it.
10% DIRECT REFERRAL COMMISSIONS
You don't need to recruit anyone to earn money but if you do, you will earn 10% referral commission. Every time an ad pack is sold you get paid 10% this includes Repurchases! Adshare paid in REAL CASH straight into your Payza, Solid Trust Pay, Perfect Money or Bitcoin and it can be easily transferred to your Bank.
WITHDRAWAL CONDITION:
You can withdraw your earnings or purchase more ad packs. It's your call because it's your money you are in control. But, it's takes about 48 hours for the amount to appear in your payment processor sometimes its take a minutes.
Don't forget Advshare use a 60/40% split repurchase plan for sustainability. This means 40% of all your withdrawal will go to your repurchase balance that you may use to repurchase new ad pack and the other 60% can be withdrawn.

WHO CAN JOIN IN THIS PROGRAM?
Advshare Platform supports four payment processors which are supported worldwide and not Paypal since some countries like Tanzania cannot receive fund through Paypal.  So, the program is for everybody in the world includes newbies and even experienced users.
What you needed to have is an Internet Connection and a Computer and certain payment processors.
Join one of the Payment Processor by click through it.
The aim of this site (legitimateincomeonline.com) is to point out which site is legit or scam and anyone can join and success in online.
ADVSHARE PAYMENT PROOF:
There is a lot of payment proof about the company but that does not mean the company can't be a scam or turning to scam people.
Advshare is a scam site even if the site pay it's members.So I recommend don't join the program.
Check the review i made about Traffic Monsoon The long lasting revenue sharing site.
The following two tabs change content below.
Nelly
I'm Kind of Big Deal at Legitimate Income Online Blog,By Provide tips on internet marketing,SEO,Affiliate Marketing and much more.Make sure to stay Tune By Subscribe On My Blog and Youtube Channel.